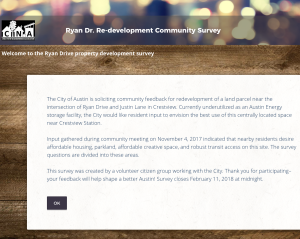 The City of Austin is soliciting community feedback regarding redevelopment of a property near the intersection of Ryan Drive and Justin Lane. Currently underutilized as an Austin Energy storage facility, the City would like resident input to envision the best use of this space near Crestview Station. A subcommittee of the CNA, the Ryan Drive Working Group, has created an online survey to gather input.
Please share your views on what should go in this 5.4 acre space – access the survey here.
Survey closes 2/11. If you have questions about the survey, contact the CNA.