Copyright Susan Burneson 2016. All rights reserved.
BEGINNINGS
Crestview (and Brentwood to the south) began to be developed in earnest in the late 1940s, after the end of World War II.
Much of the land in this area had once been owned by John Hancock (1821-1893), a prominent Austin lawyer, district judge, and Texas legislator. Hancock Creek (also known as Hancock Branch) passes through Crestview and Brentwood along the divided street named Arroyo Seco and eventually flows into Shoal Creek.
In the early 1900s, one observer described what was beyond West 45th Street, then outside the Austin city limits, including the area that became Crestview: "On the north . . . stretch rich farming lands that were once illimitable prairies. Westward . . . is a chain of hills which make a purplish background for the intervening fields in various shades of green and gold."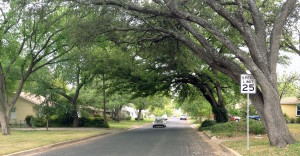 Alfred B. Beddow and Ray Yates began developing Crestview in 1947 on the former large dairy farm of Frank and Julia Richcreek. Frank, a Missouri native, helped to establish Weslaco, Texas, in the 1920s before moving to a large farm north of the Austin city limits. The modest Richcreek farmhouse was built in the 1930s near the northwest corner of today's Justin Lane and North Lamar. Frank died in 1942, and in 1947 the house was moved to 1405 Justin, where it stands today. Richcreek Road (above) in Crestview is named for the family. Justin Lane was named for Beddow's wife, who helped design neighborhood homes. Yates Avenue was named for the Crestview developer, and his home is still owned by the family.
Many original residents were veterans. Some had grown up on farms outside Austin and were of Swedish and German descent. The G. I. Bill of Rights, a Federal law passed in 1944, helped veterans purchase the relatively affordable homes for their young, growing families.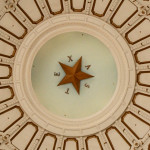 In 1952, Navy veteran Bill Williamson purchased his Crestview home for $7950. His monthly mortgage payment was $55.55, a challenge then for the young husband with a blue-collar job and growing family. Six years later, Bill, a sheet-metal worker at the New Deal Tin Shop, was paid $150 to create the 8-foot-wide star that still graces the top of the Texas Capitol rotunda today (right).
Another World War II veteran and his family have lived in Crestview since 1953. They added on to their home as needed to accommodate their four children and hundreds of foster children, many with special needs, over the years. "One reason we never left," he said, "is because we had such a good beginning when we moved here—a very congenial, very close neighborhood."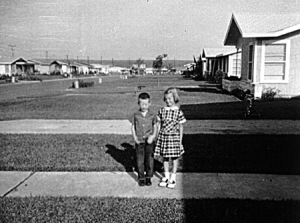 When Crestview began to be developed, the land had few trees, and early neighbors could easily see the hills to the west (in the background of the Crestview-area photo, left) and the violet glow that sometimes appeared over them at sunset. Austin was first described as the "City of the Violet Crown" in the early 1890s. Centuries earlier, the phrase was used to describe Athens, Greece. Our area has been home to the Violet Crown Heights subdivision and Violet Crown Shopping Center in Brentwood, as well as the Violet Crown Festival, nonprofit Violet Crown Community Works, Violet Crown Community Theatre, and Voices of the Violet Crown—collaborative projects of Crestview and Brentwood.

In the early 1950s, unpaved streets and swampy areas near Hancock Creek in Crestview and Brentwood were challenging for builders and early residents, so the C. H. Lester Construction Company dug a deeper channel for the creek. The Lester family has lived in Crestview since the late 1940s.
Longtime neighbors remember Robert Jackson (R. J.) McKown for helping pave neighborhood streets, which at first were only gravel. The McKown & Sons Construction Company also built the Austin-Manor Highway (290) in the late 1920s, runways at Bergstrom Air Force Base (Austin-Bergstrom International Airport) in the 1940s, and Interregional Highway (Interstate 35 through Austin) in the early 1950s, among many other projects. McKown's prominent brick home, built in 1951, spanned three lots on the southwest corner of Richcreek and Woodrow. In 2013, it was considered but not approved for City of Austin historic zoning. It was demolished in 2014.
SCHOOLS
Before Crestview and Brentwood were annexed by the city, Esperanza School, once on the northeast corner of today's Romeria and Burnet Road, served local students who lived on farms outside the Austin city limits between 1893 and 1941. According to The Defender, a 1936 history of the Travis County rural schools, although the school's name was Spanish, there are no records of any Hispanic students, and there were no Hispanic or African-American schools in the district at the time. The first Esperanza School was built in 1866 near today's Spicewood Springs Road and Mopac. Today, that original log structure is at Zilker Botanical Garden in Austin. It received a Texas Historical Marker in 1974.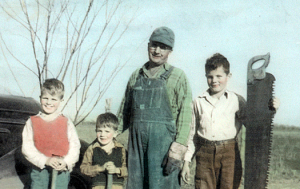 In 1936, Franklin Edmond (Frank) Pease (with three of his sons, right), distant cousin of Texas governor Elisha M. Pease, moved with his large family to a 14-acre farm north of Esperanza School, between today's Burnet Lane and Arroyo Seco in Brentwood. In the late 1940s, Frank Pease sold some of his property. Brentwood Elementary School, which opened in 1951, and homes, part of the Frank E. Pease Subdivision, were built there. During the Bay of Pigs invasion in April 1961, a bomb shelter was built under the concrete outdoor stage on the north side of the school, according to longtime neighbors. McCallum High School was built in 1953 in Brentwood.
CHURCHES
Crestview and Brentwood have more than a dozen churches that continue to thrive and have active education and community outreach programs. Some of the churches were built along Woodrow Avenue, nicknamed "Church Row" by longtime neighbors, and most have mosaics on the Wall of Welcome at Crestview Shopping Center. Among the oldest churches in Crestview are Crestview Baptist Church (1953); Crestview United Methodist Church (1953); Episcopal Church of the Resurrection (1953); and St. Louis King of France Catholic Church (1952).
CRESTVIEW SHOPPING CENTER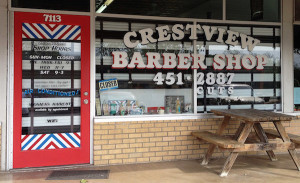 In 1952, Beddow and Yates built the Crestview Shopping Center on Woodrow Avenue. Three businesses in the center have been in operation since the early 1950s: Crestview Barber Shop (left), Crestview Beauty Salon, and Crestview Pharmacy, owned since 1964 by two generations of the Harper family. Arlan's Market, which opened in March 2016, continues in the tradition of Crestview Minimax IGA, the neighborhood grocery owned by two generations of the Prellop family and part of the center for 63 years.

In the 1950s, parking was only on the north and south sides of the center. A grassy mall with walkways, flower beds, and a large oak tree connected the two buildings. In the 1960s, more parking was needed when Minimax was expanded. Ray Yates' wife Maude, an avid gardener, arranged to have the large oak tree moved. Today it provides welcome shade near the Little Deli (below). Maude also was a member of the Violet Crown Garden Club, and her azaleas were a favorite stop on the club's spring garden tour.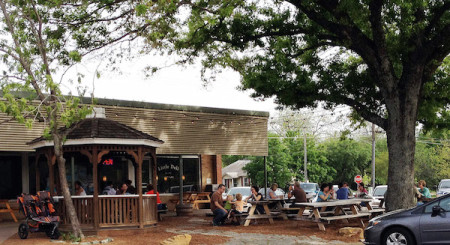 For more than a decade, Little Deli has been a vibrant element of the shopping center, in the space once occupied by longtime Austin physician Glen Journeay. Original Little Deli owner Lucretia Custer Doyer and her sister Sabrina Custer Becker, who once owned Perfecto Cleaners in the center, were known for always remembering customers' names. The dry cleaners was owned by three generations of the Custer family before it closed.
Mona Lee Fultz opened BriteLites Acting Studio in 1992. An actor, coach, and screenwriter, Fultz has had roles in Richard Linklater's films and many other productions; she coached actor Ellar Coltrane for Linklater's film Boyhood. Project Transitions has provided hospice, housing, and support services to people with HIV and AIDS in Central Texas since 1989; the proceeds of its Top Drawer Thrift benefit Project Transition's clients and programs. Ricky Wilson Manufacturing, the newest business in the center, opened in 2007.
GREENSPACES
In 1951, the City of Austin acquired a former cornfield north of Brentwood Elementary for Brentwood Park, the greenspace for both Brentwood and Crestview. Early neighbors formed the Brentwood Recreation Club and coordinated with the city to develop and maintain the park, which had few trees. In 1952, the group held a festival to raise funds for playground equipment. In 1953, members helped build the stage on the north side of Brentwood Elementary. For several years, the group held annual tree and shrub plantings at the park and school. Individual neighbors also helped care for the park over the years. Since 2009, the Friends of Brentwood Park, including Crestview and Brentwood neighbors, have helped maintain and develop it as a community resource through workdays, including the 2010 planting of 115 trees, and fundraising for park enhancements. The group has completed the following projects since 2012: park pavilion, walking trail, benches, stainless steel drinking fountain, and backstop fencing.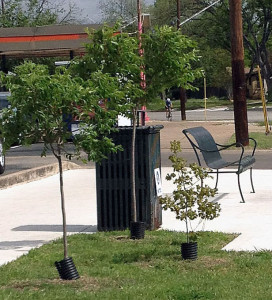 Along once-bare Arroyo Seco, Brentwood neighbors began coordinating tree plantings in 1992, and neighbors in Crestview have continued the plantings north of Justin Lane. Crestview was named a City of Austin Certified Green Neighborhood in 2010. Other recent projects by Crestview neighbors include the median north of West St. Johns, around Crestview Shopping Center (left), at Fire Station #16, along St. Joseph Street, at Crestview Baptist Church, and along Burnet Road and North Lamar. Each year since 1994, neighbors coordinate the holiday tradition of luminarias all along Arroyo Seco.

FILM/TV LOCATIONS
Sites in Crestview continue to be popular for period films and television shows. Richard Linklater filmed Dazed and Confused (1993) at Top Notch in Crestview, as well as Violet Crown Shopping Center and the body shop that once housed the Capitol Roll Arena roller skating rink in Brentwood. Crestview Minimax IGA (today's Arlan's Market) was featured in Man of the House (2005) and an episode of Friday Night Lights, with a cameo by Minimax owner Ronnie Prellop in a tornado scene.
LONGTIME RESTAURANTS
Horace Burkhart opened Burkhart's Motor Dining in 1962 at 7525 Burnet Road in Crestview. The Stanish family bought the business in 1971 and renamed it Top Notch. After 39 years, the Stanish family sold the business, and the current owners continue in the Burkhart's/Top Notch tradition. Longtime Brentwood restaurants include Threadgill's and Frisco Shop.
LOCAL DRIVE-INS
While there were no drive-in movie theatres in Crestview, four were nearby: Eddie Joseph's (1940-1960, southwest corner of today's Justin and North Lamar), Chief (1947-1973, southeast corner of Koenig and North Lamar), Burnet (1952-1970s, today's Burnet Road Self-Storage), and Longhorn (1954-late 1960s, Anderson Lane near North Lamar).
When Eddie Joseph's North Austin Drive-in was first built, there was only one large speaker for the sound, which disturbed the peace at Frank Richcreek's once-quiet farm just to the north. At times, Richcreek let local teenagers watch the show from the top of his large dairy barn. Nearby neighbors remember sitting in their yards to see a movie. When the wind was right they could hear it, too. Eventually each car had its own speaker.
NEWER HISTORY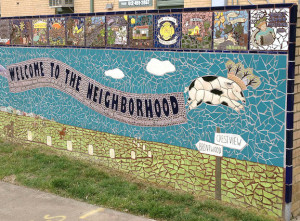 In 2003, Crestview and Brentwood volunteers created the Violet Crown Festival and the nonprofit Violet Crown Community Works to help raise funds for the mosaic Wall of Welcome (left). The festival is now an annual tradition, and the nonprofit continues to support neighborhood enhancement projects. The Wall of Welcome, created and installed by Brentwood artist Jean Graham with the help of hundreds of neighbors of all ages, was completed and dedicated in 2008. Gracing a long brick wall on Woodrow Avenue at Crestview Shopping Center, it colorfully depicts neighborhood history through images and words. Another collaborative mosaic project spearheaded by Jean Graham was completed in 2004 on the west side of Brentwood Elementary.
Domino was a young spotted pig that escaped into the neighborhood from the petting zoo at the first Violet Crown Festival in 2003 and became a neighbor's pet for a time. Today, he is a local legend. He is remembered in the original painting by artist and former Brentwood art teacher Linda Anderson; in a mosaic on the north end of the Wall of Welcome (above); as the 10-foot-long pig puppet featured at First Night Austin, the Violet Crown Festival, and other events; and in the local film First Night W/Domino & Friends (2006).
For more community and history, visit Voices of the Violet Crown.